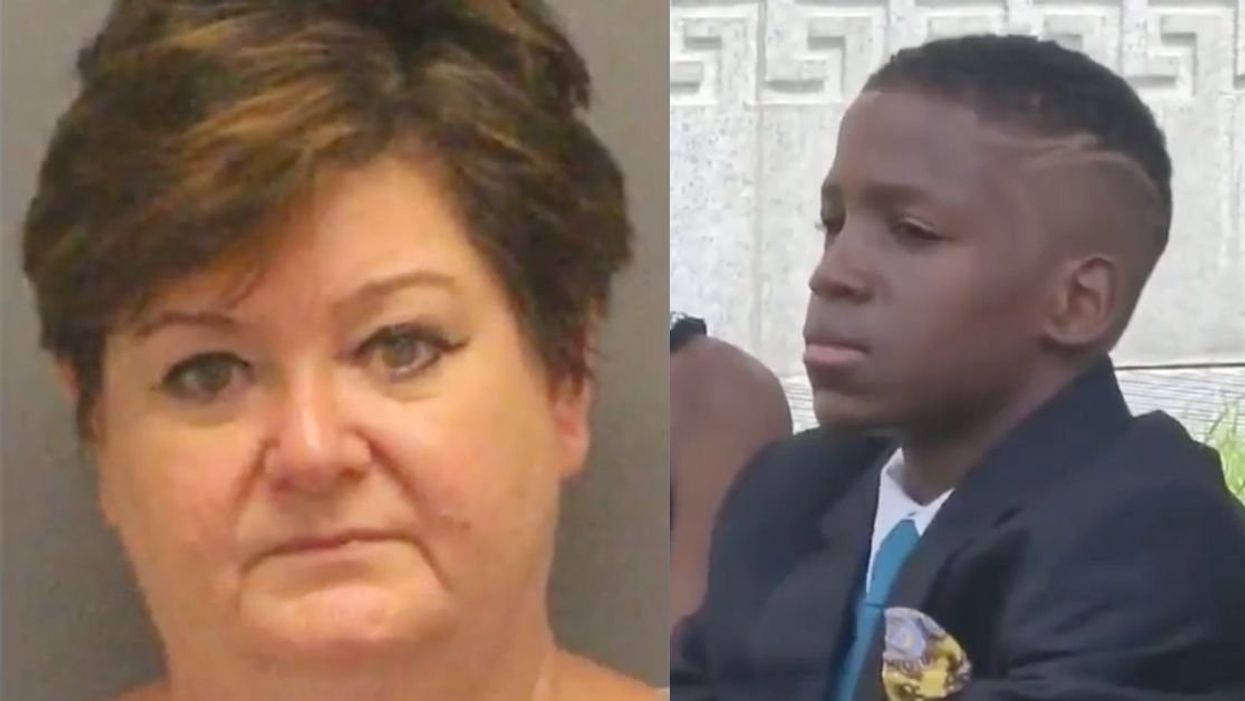 The family of two Black children who were allegedly assaulted by a woman who poured soda on one of the kids after slapping him has filed a federal discrimination lawsuit.
Earlier this month, 62-year-old Kimberly Jennings, who is White, was arrested and charged with two counts of simple assault on a child under 12.
Surveillance footage taken at Sedgefield Gardens apartments in Greensboro, North Carolina, where Jennings worked as a property manager showed her slapping a boy near the pool area and then splashing soda in his face.
You can watch the WXII 12 news report below:
The Greensboro Police Department said in a press release on August 4:
"Upon arrival, officers made contact with two juvenile victims and their parents."
"Through the investigation, it was determined that an assault had occurred."
Jennings was arrested following the circulation of a viral video capturing the incident. She was taken to the Guilford County Jail and later released on bond.
Robert Eury and Joella Lee-Eury, the parents of the assaulted children, have filed a lawsuit in the Greensboro division of the U.S. District Court Middle District of North Carolina.
The parents alleged Jennings violated their kids' civil rights.
Civil rights attorney Ben Crump, one of the attorney's representing the Lee-Eury family, shared a clip of the assault, which shows the boy just standing there in a daze as he is getting soaked with soda and being hit with the bottle repeatedly.
— (@)
According to the lawsuit, 11-year-old Jace Lee-Eury and his 8-year-old sister, Jayla, were invited by friends to cool off at the pool on the property.
According to Atlanta Blackstar, which reported on Jennings' arrest on August 7, the area was not marked with any trespassing signs or warnings against unattended children.
It is unclear whether or not the friends who invited the young siblings were present at the time of the assault.
Witnesses said they saw Jennings hitting Jayla following an altercation involving Jennings telling her and her brother to leave since the pool was reserved for residents.
Jayla told WXII 12 how her brother came to her defense after Jennings hit her:
"She slapped me and then my brother came and splashed water on her."
Jace Lee reportedly threw a cup of water at Jennings to defend his kid sister, which prompted Jennings to retaliate by drenching the boy with Coca-Cola and hitting him with the bottle.
— (@)
— (@)
— (@)
— (@)
— (@)
— (@)
The lawsuit claimed the children had been to the pool multiple times without incident before they were confronted.
It also stated that prior to pouring soda on Jace Lee's head, Jennings allegedly pulled Jayla's hair and also used racial slurs. Neither of the latter two allegations was seen on any obtained footage.
On August 5, Jennings interviewed with WFMY-TV and recalled telling the two siblings to leave the area since it was only meant for residents.
She also apologized for her behavior, saying:
"The other day, when he was out there, we asked him to leave, and he was mouthy, and I just, I had a soda in my hand, and I tossed it on him, and then I popped him."
"I did, I admit I did, and it was wrong."
According to a resident of Sedgefield Garden Apartments, China Symone, Jennings had a history of demonstrating discriminatory behavior and "being aggressive and threatening toward" guests and residents.

In her statement of apology, Jennings continued:

"But, like I said, when you've done it and you've done it and you've done it and you've asked him not to come back, and he's tearing up everything and he cusses you out and you don't know if he's going to hit you again or what he's going to do. I just reacted."
"But, I will say that I'm sorry that I did that. I should've handled it differently."
People thought her knee-jerk response was inexcusable.
— (@)
— (@)
— (@)
Robert Eury said of the assault on his children:
"There is a different way to go about it."
"You don't need to put your hands on nobody's child at all. It isn't your responsibility."
The lawsuit alleges discrimination, assault, and emotional distress.
Joella Lee-Eury said at Tuesday's press conference:
"It's hurtful that [Jennings] seems to not care, and there were barely any repercussions for her actions."
"I want to see something done for justice for my children and any other children that she may have hurt or discriminated against."
In addition to Civil Rights Attorney Ben Crump, Harry Daniels and Jason Keith are jointly representing the family in suing Sedgefield Gardens and Sedgefield Realty Company LLC.
Daniels announced the lawsuit at the press conference and declared:
"One thing we're not going to stand for is when you mess with our children."
"And today is a day of reckoning and justice-seeking justice, not only for the Lee-Eury family, but for all families who have been subjected to injustice, and mistreatment."
He also cited racism in Jennings' actions.
"She decided to assault them. She humiliated them and embarrassed him. There's more layers to this."
"It's not just children that are in the wrong place at the wrong time. This is a bad seed."
"It's racist, prejudiced, and the apartment complex knew that she had a tendency to lie and mistreat Black folk."
The mother also called for the termination of Jennings from Sedgefield Garden Apartments after Jennings was arrested.
"I want her fired. I want her life destroyed," she said, adding:
"I want her to have nothing and be nothing like she made my kids feel."
An employee of Sedgefield Garden Apartments declined to comment on Jennings' employment status, the incident, or the lawsuit when ABC News contacted the property.
This content was originally published here.